Art & The Endive Truck
Submitted by
Molly Collins
on Tue, 12/18/2012 - 09:17
"I just saw one of your trucks on the road the other day!"
"One of them? That's our only one!"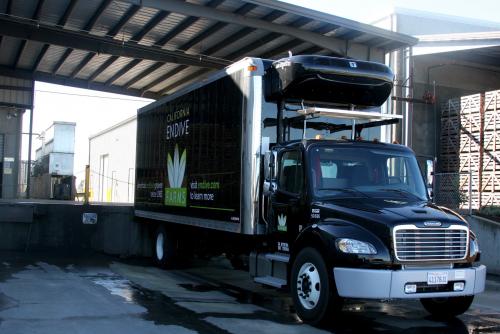 For the past thirty years, we have been delivering our endive to customers throughout Northern California. We are constantly told that people have seen one of our trucks, assuming we have multiple. In fact, not only do we have just one truck, we have primarily had one truck driver too.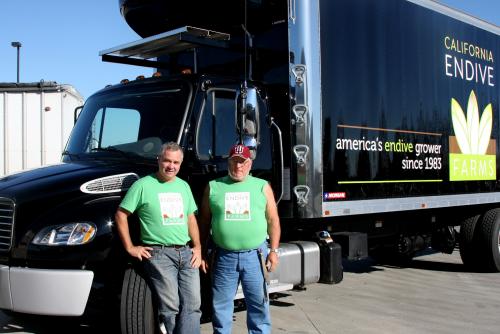 Our President, Rich Collins (left) with our truck driver, Art Kamman (right).
Art Kamman has been our main driver since 1990! Most farms in Europe do not have dedicated individual truck drivers to deliver their endive so Art has probably handled more endive than any other truck driver in the world (Over the years, we estimate he has handled over 50 million pounds of endive!). After 23 years, Art plans to retire in the early months of 2013.
We recently changed our name from California Vegetable Specialties to California Endive Farms. With the new name came a beautiful new, shiny truck. Replete with highly visible and engaging graphics.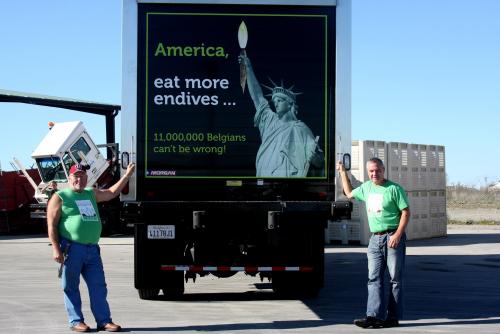 Our new truck also has a Cummins ISB engine, a 2010 Feds Emissions Escalator, a 2010 EPA Carb Emission Certification and a 2008 CARB EM certified clean idle system. Wow, that's a whole bunch of truckie techno-babble. What does it mean? One very clean, efficient, low emissions truck, that's what! Art tells us it is one smooth ride too!
For any of you who frequent the highways in California's Bay Area and central valley, if you happen to see our new truck out on the road, know that it is the only dedicated endive delivery truck in America, proudly driven by our dedicated truck driver, Art Kamman.