Endive, Avocado and Grapefruit Salad
Submitted by
Molly Collins
on Fri, 05/02/2014 - 11:26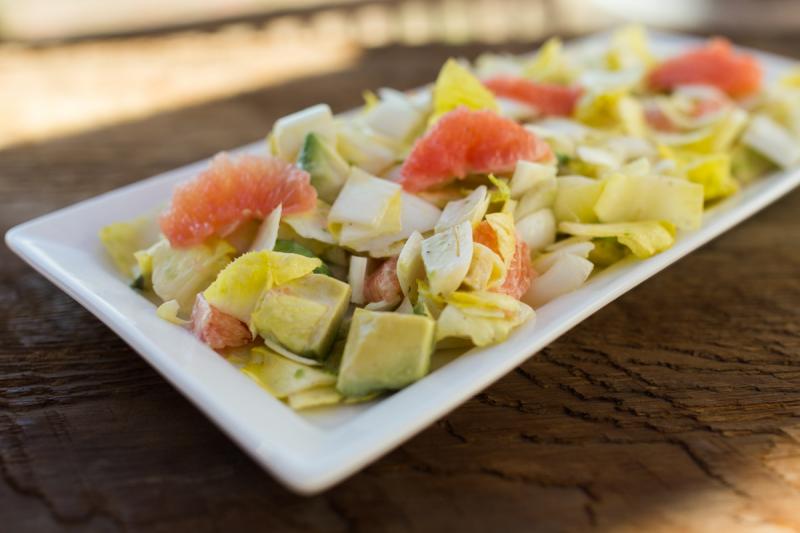 California avocado season has arrived, my friends. If you couldn't already tell, we are slightly obsessed with this delicious and versatile fruit (Avocado & endive appetizer, Shrimp & Avocado Ceviche in Endive, Avocado, Endive, Pistachio Salad). Avocados' rich flavor and creamy texture pairs perfectly with endive's refreshing crunch and slightly bitter taste. The combination is ideal for salads during the upcoming summer months. For this recipe, we've integrated grapefruit for a sweet and tangy addition. Throw the salad together, pop a bottle of bubbly and enjoy a delicious summer meal al fresco!
*Another option, you could turn this into an appetizer by filling whole endive leaves with the Endive, Avocado and Grapefruit Salad. Just slice the avocados and grapefruit into slightly smaller pieces and voila - finger salads!
Endive, Avocado and Grapefruit Salad
Ingredients
2 grapefruit
3/4 teaspoon white-wine vinegar
1 tablespoon honey
1 1/2 tablespoons sour cream
1/8 teaspoon salt
Freshly ground pepper
1 1/2 tablespoons extra-virgin olive oil
4 California endives
1 ripe avocado, pitted and peeled
Instructions
1. Peel and cut grapefruit over a bowl to catch any juices.
2. Whisk together vinegar, honey, sour cream, salt and 3 tablespoons grapefruit juice in a small bowl. Season with pepper. While whisking, add oil in a slow steady stream; whisk until emulsified
3. Julienne endive leaves in long, thin 1/8" strips. Cut avocado into ¼" slices. Add grapefruit segments. Toss endive, avocado and grapefruit with dressing. Serves 4.
Adapted from Martha Stewart's Endive, Avocado and Red Grapefruit Salad.