Endive Nachos with Black Beans & Feta
Submitted by
Molly Collins
on Fri, 05/16/2014 - 08:16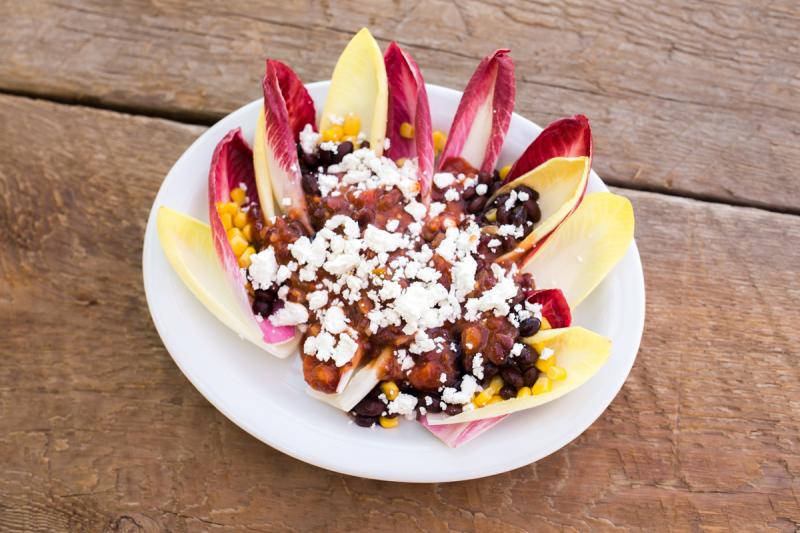 As many of you know, we love the idea of using endive leaves as a healthy, gluten-free crunch in replacement of chips and crackers. We've taken that idea to the next level with this dish: Endive Nachos! It's a tasty summer snack loaded with black beans, feta, corn and salsa. We got the idea for the dish from a friend who paid a visit to our farm last year. While she was touring our facility we (of course) mentioned the idea of endive as an ideal replacement for the calorie-heavy chips and crackers most common in appetizers. A few days later she sent us back a photo of her inventive creation - brilliant! This would serve as a great appetizer* for a summer BBQ or as a quick, healthy week-day dinner. Whenever you choose to make this dish, we promise, it will satisfy even your most intense cravings for nachos!
*To turn this dish into an appetizer, simply place endive leaves on a dish and individually portion the black beans, feta, corn and salsa into each leaf OR layer the ingredients in the center of your dish and stick endive leaves around the layers (see here for an example).
Endive Nachos with Black Beans & Feta
Ingredients
3 California endive
1 cup black beans, drained
1 cup corn, drained
1 cup salsa
1/2 cup feta
Instructions
Separate whole endive leaves. Place leaves on a plate and layer black beans, corn, salsa and feta on top of leaves.