Endive in Kathryn Anible's The Leafy Greens Cookbook
Submitted by
Molly Collins
on Wed, 03/06/2013 - 08:37
Kathryn Anible works as a personal chef in New York City. Kathryn's food reflects her focus on simple, nutritious ingredients. This focus led Kathryn to write The Leafy Greens Cookbook, a how-to guide for incorporating healthy greens into your every day diet through simple and delicious meals. After spotting a feature on Kathryn in the New York Times in which she used endive in a healthy salad for the holiday season, we contacted her in hopes of learning more about her approach to food, and how endive fits into that approach!
Here are a few excerpts from our interview with Kathryn...
Q: Your recipes seem very approachable, but do you think less familiar vegetables often intimidate the average household cook?
A: Oh, yes! Most people like foods they can recognize, at least in my experience, especially with vegetables. The recipes in my cook book are meant to spark some interest and hopefully, to get a few people to try eating the greens they might otherwise toss out or ignore, like beet greens, turnip greens, mustard greens or collards.
Q: When did you first discover endive?
A: In college, while attending Johnson and Wales. We learned about it in class, but I didn't really develop an opinion about it until I worked a private catering event with some classmates. There was one dish, endive with smoked trout and horseradish sour cream, which was this crazy explosion of flavor! It was definitely my favorite thing that night, as I can't remember anything from the rest of the menu.
Q: What is your favorite way to prepare endive?
A: For me, the simpler, the better. I love it grilled, seasoned with salt and pepper and sprinkled with a little parmesan or as an edible spoon filled with dip, cheese, nuts or berries. Yum!
We wish Kathryn luck with the release of The Leafy Greens Cookbook in May. We hope you all have the chance to check out more of her recipes and incorporate more unexpected vegetables in your every day diet. Of course, we also hope you continue to think of endive as a versatile and healthy product that can be incorporated in a variety of dishes!
Endive & Apple Salad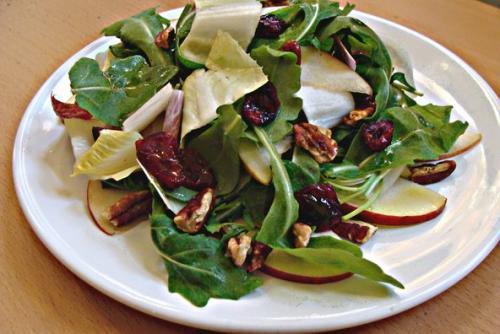 Ingredients
1/4 cup olive oil

2 tablespoons apple cider vinegar

1 tablespoon orange juice

1 teaspoon honey
 Dash of salt
 1/4 cup pecans

2 heads of endive, chopped

1 cup arugula

1 apple, sliced thin 

1/4 cup dried cherries or cranberries

1/4 cup goat cheese, crumbled (optional)
Instructions
1. To make dressing: In a small bowl, whisk together the oil, vinegar, juice and honey. Season with salt.
2. In a small sauté pan, toast the pecans over medium heat. Allow to cool.
3. Mix together the endive, arugula, apple and cherries (or cranberries) in a medium-size bowl. Toss with enough dressing to coat. Top with the pecans and goat cheese (optional). Serves 4.
Recipe & photography contributed by Kathryn Anible, The Leafy Greens Cookbook.