SuperBowl Appetizers
Submitted by
Molly Collins
on Tue, 01/29/2013 - 08:59
It's that time of year again. No, not the time to struggle with your New Year's resolutions or to find that perfect Valentine's Day gift—it's Super Bowl time! The sporting event so many Americans wait for each year is finally upon us, which means an abundance of finger food is also fast approaching.
Standard Super Bowl fare often includes chicken wings, spinach dips, or practically anything in fried form. This year, we'd like to suggest some simple alternatives that can be just as satisfying as the usual Super Bowl Sunday snacks, but a bit more on the healthier end of the spectrum.
Endive leaves act as a fantastic substitute for the usual chips, crackers, or breads that accompany the spread of dips that often make an appearance at a Super Bowl party. Even the rather bland and boring vegetable trays can be spruced up with an addition of some endive leaves--you and your guests don't have to be stuck choosing between celery or carrots every time you want a lighter snack!
So, whether you set out some leaves as an alternative to chips with your dip, or you make a platter of appetizers, surprise your guests with something new this year! We have some great endive recipes that you and your guests will enjoy during the big game
"Original Blue" Endive Boats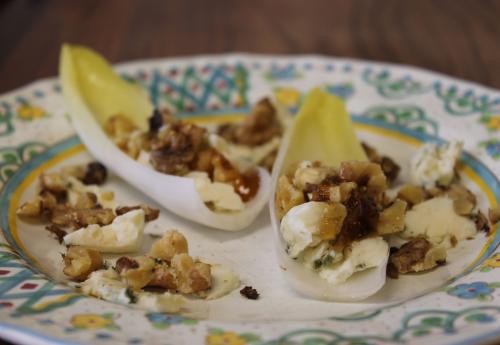 Ingredients:
California endive
Point Reyes Original Blue cheese, crumbled
Walnut halves, toasted
Honey
Instructions:
1. Separate endive heads into single leaves.
2. Fan leaves out on platter.
3. Fill each leaf with about one tablespoon of cheese crumbles.
4. Place a walnut half on each spear, and drizzle with honey.
Recipe provided by the Giacomini Family of Point Reyes Farmstead Cheese Company.
Endive and Ricotta Appetizer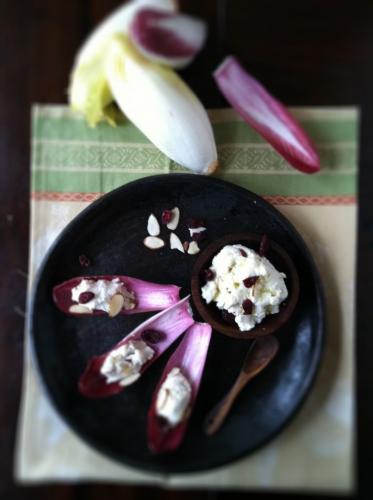 Ingredients:
2 tablespoons sliced almonds
2 tablespoons craisins
2 tablespoons extra virgin olive oil
2 tablespoons extra virgin olive oil
2 tablespoons chopped fresh lemon thyme salt/pepper
1 ½ cups ricotta
2 endive heads
Honey to drizzle (optional)
Instructions:
1. Into a small bowl add: almonds, craisins, oil and thyme. Season with salt/pepper.
2. Place a dollop of ricotta onto endive leaf. Top with approximately 1 teaspoon of nut mixture.
3. Drizzle with honey if desired.
Recipe & photography provided by Paula Jones of Bell'alimento.