Tastes of Harvest - Latin Salsa and Endive Appetizer
Submitted by
Molly Collins
on Mon, 09/16/2013 - 09:01
Tastes of Harvests...our way of making your life a bit more simple when it comes to quick, healthy, delicious eating. Over the course of the next few months we will deliver an endive appetizer recipe into your inbox every two weeks.
To start things off, we whipped up a tasty latin mango salsa that pairs well with our favorite fall (well, every other season too) vegetable. This dish serves as a great appetizer for a get-together with friends & family as well as a healthy on-the-go snack or light lunch.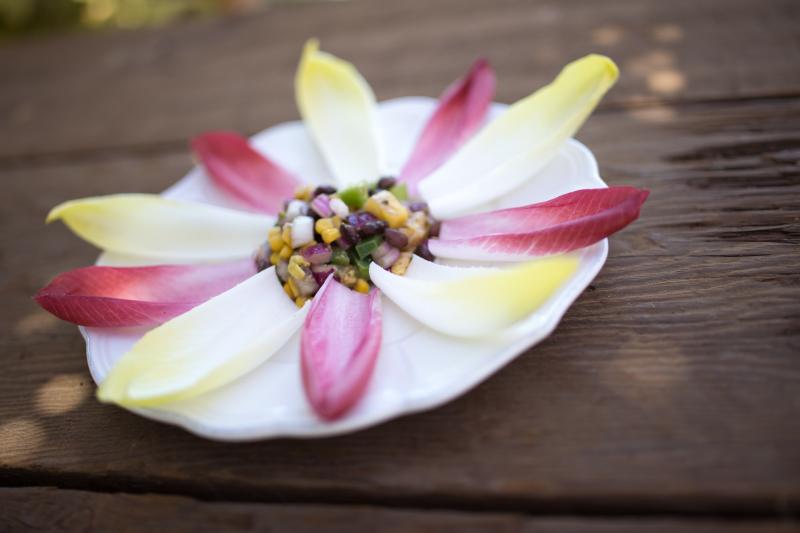 LATIN SALSA AND ENDIVE APPETIZER
INGREDIENTS
1 red sweet onion
1 white sweet onion
1 jalapeno pepper
1 firm avocado
1 ripe mango
1 can black beans
1 can sweet corn
6 T chopped cilantro
4 T canola oil
2 T red wine vinegar
juice of 1 lime
salt & pepper
INSTRUCTIONS
Finely dice both onions, the jalapeno, avocado and mango and place all in a mixing bowl. Add chopped cilantro. Rinse and drain both corn and beans and add to mixture in bowl. In smaller separate bowl mic oil, vinegar and lime juice. Pour over vegetable mixture in bowl and thoroughly mix. Season to taste with salt and pepper. Spoon mixture onto individual endive leaves and serve.