Tastes of Harvest - Red Quinoa Salad in Endive Boats
Submitted by
Molly Collins
on Mon, 10/14/2013 - 11:00
It seems like this time of year everyone starts to get busy...really busy. With the craziness of the holiday season fast approaching, we attempt to focus our efforts on versatile dishes that can serve as an appetizer or even a light and healthy lunch or dinner. We think this Red Quinoa Salad in Endive Boats is a perfect fit - versatile, healthy and simple. You can either create finger salads by placing the quinoa mixture into the endive leaves or you can surround the mixture with the whole leaves (like the photo below) to showcase the colors of the red and white endive.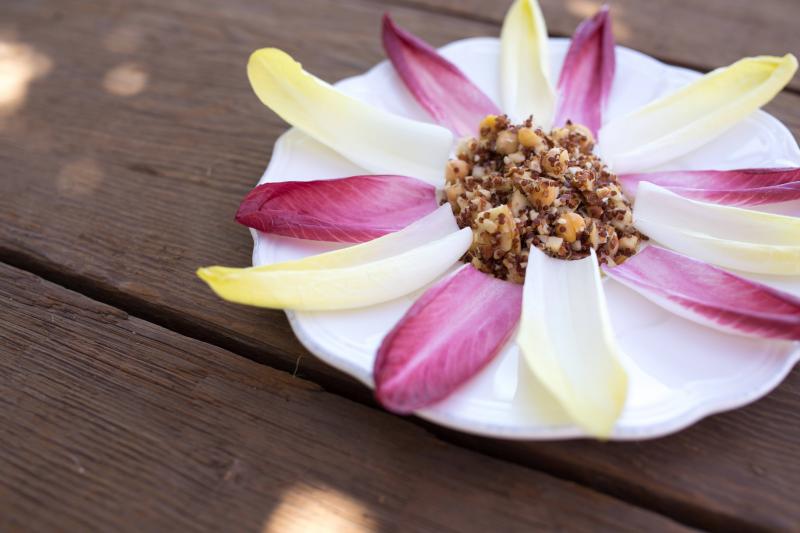 RED QUINOA SALAD IN ENDIVE BOATS
INGREDIENTS
1 cup uncooked red quinoa
2 cups water
1 1/2 teaspoons ground cumin
1/2 cup orange juice
1/2 teaspoon salt
2 tablespoons olive oil
1 (15-ounce) can chickpeas, rinsed and drained
1 apple, cored and diced
1/2 cup whole almonds, toasted, roughly chopped
3 endives
INSTRUCTIONS
Rinse quinoa in a sieve until water runs clear. Drain and transfer to a medium pot. Add water and bring to a boil. Cover, reduce heat to medium low and simmer until water is absorbed. 15 to 20 minutes. Set aside off the heat for 5 minutes. Uncover and fluff with a fork. Allow to cool. In a large bowl, whisk together ground cumin, orange juice, salt, and olive oil. Add the cooked quinoa and stir to coat. Add the chickpeas, apples and almonds, tossing gently to mix. Taste and adjust seasoning, if needed. Chill before serving. Separate whole endive leaves and fill with quinoa salad mixture. (Or place salad mixture in the center of a plate, like the picture above.) Makes approximately 30-36 appetizers.
Recipe contributed by Sue Doeden.