Early Roots of a Sustainable Perspective by Rich Collins
Submitted by
Molly Collins
on Tue, 05/07/2013 - 00:00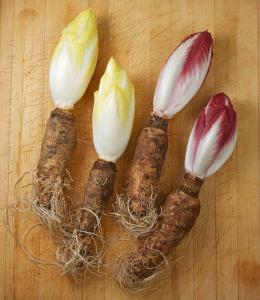 Through the years I've been called cheap by friends and family. Why? As a kid I used to roam nearby construction sites picking up nails dropped by carpenters. If they were bent I'd bring them home and straighten them out for future use. In the fall of each year I'd cajole my dad into driving through our neighborhood the night before garbage collection so we could gather (hundreds!) of bags of leaves for my garden, "rescuing" them from the garbage truck and a fateful end in the landfill. I just hated to see things wasted. Still do. Resources are precious. They should not be wasted - nor abused.
As I entered the world of farming back in the early 80's this character trait did not retreat. Old equipment was salvaged and transformed into useable stuff. The access door to our first endive forcing room was sheathed in my dad's old real estate signs (for sale by Joe Collins Realty!) Yeah, I was on the cheap side…
Today at California Endive Farms while I continually warn my staff about the trap of false economies, I also insist that we make prudent decisions about what we use and how we handle the waste we generate. We just recently decided to convert our retail red and white flow pack from a styrofoam tray to one made with waste palm fiber that is recyclable and compostable. So it'll cost us a few pennies more per case, but it's the right thing to do.
We recycle as much as we can here, including some 25 – 30 tons a day of chicory roots diverted to cattle feed. A few years back we ridded our facility of its despicable junk food vending machines. Now we purchase fruits and nuts for all of our employees to enjoy as snacks – at no charge to them. Recently we started composting any green waste generated from that produce. Three years ago our board of directors gave the green light to invest in a cold storage facility for our chicory roots. We avoided the temptation of the cheap and easy status quo and dared to ask the short yet provocative question "What if?". The result is a structure using the Energy Mass Wall – and perhaps the most energy efficient cold storage building in America (www.energymasswall.com). Sometimes it pays big dividends to have a "cheap" perspective!
Is there a way to be sustainable when cooking with endive? Use it all! If, like me, you prefer not to include the solid core in your salad, add them to your soup stock. (Or feed them to your chickens or simply add them to your compost!)
Cream of Endive Soup with Rosemary Parmesan Crisps
Ingredients:
Soup:
2 tbsp butter
1/2 medium onion, chopped
1/2 tsp salt
2 cloves garlic, minced
4 heads California Endive, coarsely chopped
1/4 tsp black pepper
2 1/2 cups chicken broth
2 large sprigs fresh rosemary Crisps:
1/2 cup finely grated parmesan
1 tbsp fresh rosemary, chopped
Instructions:
1. For the soup, heat butter in a large heavy saucepan over medium heat until melted. Add onions and salt, and cook until softened, about 4 minutes. Add garlic and cook until fragrant, 30 seconds.
2. Add endive and cook until leaves are wilted, 2 or 3 minutes. Season with pepper.
3. Add chicken broth and rosemary sprigs and bring to boil, then reduce heat and simmer for 20 minutes.
4. Remove rosemary sprigs. Use an immersion blender or transfer to a food processor and puree.
5. For the crisps, preheat oven to 400F and line a baking sheet with a silicone mat or parchment paper.
6. Mix parmesan and rosemary in a small bowl, then make even 6 mounds on the prepared baking sheet. Spread into a small circle, about 3 inches in diameter and press down gently.
7. Bake 5 minutes, until crisp and lightly browned.
8. Dish out soup with a few rosemary leaves for garnish and serve crisps on the side. Serves 6.
Carolyn Ketchum is one of five food bloggers associated with our OnDiva ambassadorship. She is the writer and recipe developer behind the food blog, All Day I Dream About Food