Crudite Platter & Grilled Endive
Submitted by
Molly Collins
on Thu, 05/22/2014 - 08:30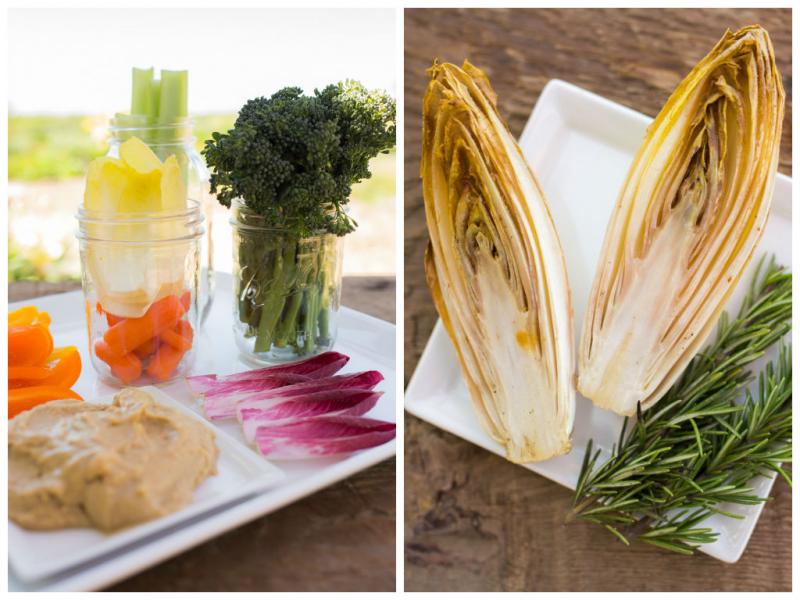 Happy Memorial Day weekend! Got a few heads of endive? We have a couple recipes to help you use 'em up!
One of our favorite dips to use with endive is hummus - cut up endive and a few of your other favorite veggies and you'll have yourself a healthy, colorful spread that your guests will dig into, guilt-free. 
Many of us don't think to grill endive, opting instead to simply toss it in a salad or use the leaves as appetizers. However, as summer grilling season approaches we recommend you give it a try. Endive's high complex fiber content allow it to hold up really well on the grill and its flavor profile takes an unexpected turn to the subtly sweet side as sugars break down and simplify during the cooking process. The trick is to grill "low and slow" - over medium heat at most - cooking it gently just beyond al dente. No need for excessive char with our beloved white vegetable! The grilled endive serves as a great side or even a main dish for those who prefer a meatless meal.
Crudite Platter
Ingredients
1 orange pepper, trimmed, seeded and cut into strips
1 yellow pepper, trimmed, seeded and cut into strips
5-6 stalks of brocollini
3-4 stalks of celery, cut into strips
Baby carrots
2 white California endive, slice end and use whole leaves
2 red California endive, slice end and use whole leaves
Hummus*
Instructions
Arrange vegetables on platter and serve.
*Hummus is our dip of choice but feel free to use an assortment of other dips (i.e. salsa, guacamole, spinach & artichoke, etc.)
Grilled Endive
Ingredients
3-4 California Endive, sliced lengthwise
1 tablespoon olive oil
Chopped fresh rosemary, optional
Instructions
Preheat grill over a medium flame. Brush each endive half with olive oil. Place endive on grill, cut side down to start.  After 8–10 minutes turn over and cook another 12-15 minutes turning occasionally and lowering the flame if needed until endives soften. Season with salt and pepper, garnish with chopped rosemary if desired. Serve hot or allow to cool and serve at room temp. 
*Grilled endives provide the basis for a great summer salad as well. Cut grilled and cooled endives across into one inch slices. Mix with feta cheese or chevre, roasted nuts and some arugula, all dressed with additional olive oil.