Celebrate the 4th of July with Red, White and Blue!
Submitted by
Molly Collins
on Wed, 07/02/2014 - 08:12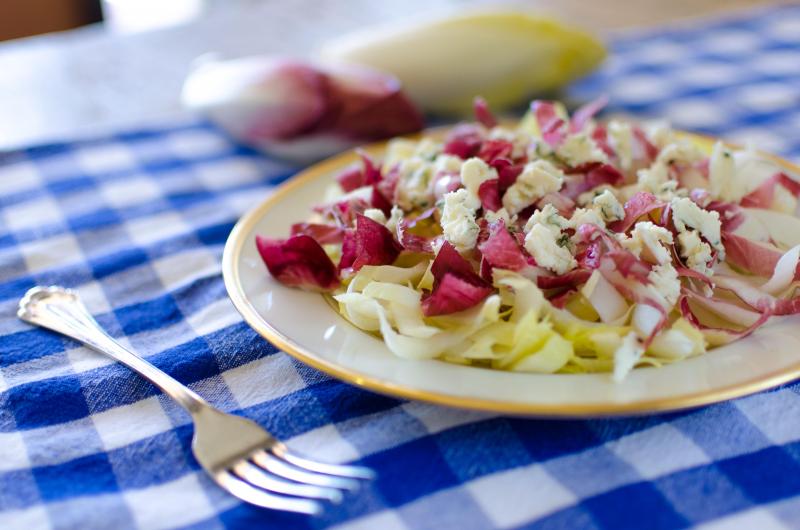 As a small kid who eagerly awaited all the major holidays I distinctly remember posing the following - now embarrassing yet then oh so innocent - question to my father: "Dad, when is the 4th of July?" Why the anticipation of such holidays? Food! The 4th of Julyhas always been a wonderfully food centric holiday. I fondly remember the burgers, potato salad, deviled eggs, baked beans, sweet corn and apricot crisp all washed down with copious amount of Shasta soda.
As you are planning your holiday menu this year, how about incorporating some new healthier ideas like our hyper patriotic Red, White and Blue salad? Red and white endives dressed in a simple vinaigrette topped with blueberries and crumbled blue cheese. Super easy, patriotically colorful and best of all - delicious! Happy 4th!
All the best,
Rich Collins
Dressing:
5 tbsp rice vinegar
½ c. oil (canola or sunflower)
1 tbsp Dijon mustard
1 garlic clove, crushed
Combine all ingredients in bowl and whisk together until emulsified.
Salad:
4 white California Endive, cut on bias in ¼" strips
2 red California Endive, cut on bias in ¼" strips
2-3 tbsp crumbled blue cheese
In a separate bowl dress and toss the endive. Divide equally among four dinner-size plates. Top each plate of endive with equal amounts of blue cheese.