D.H. White Elementary Visits California Endive Farms
Submitted by
Molly Collins
on Wed, 11/21/2012 - 11:14
Over the years, we have had the good fortune to educate young and curious minds when students tour the endive farm here in Rio Vista.  They most always arrive with a lot of questions and a lot of energy--both of which we greatly appreciate!  We recently hosted the fourth and fifth grade classes from D.H. White Elementary School, which happens to be located just a few blocks from our facility.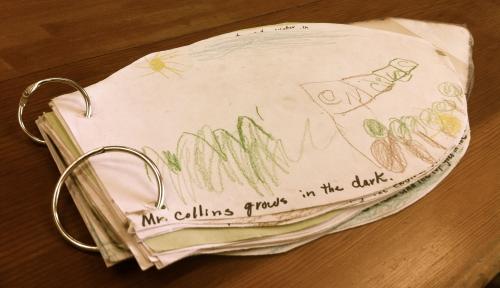 *A "thank you" binder from a previous elementary school tour that Mr. Collins keeps in his office.
The classes from D.H. White had a little background on what we do here at California Endive Farms, but they seemed eager to learn more, asking questions such as…
"Why is endive considered a vegetable?"
"What makes it yellow?"  
"How do you eat it?"
"How does it grow?"
"What do you do with the root?"
"What does it taste like?"
And one of our favorites…
"Why did you never give up?" (As someone who spent roughly a decade in the 1980s mastering the technique of growing endive, my dad, Rich Collins, loves the opportunity to teach children about the rewards of hard work and determination.)
After the tour, we sent each of the students home with a 3-pack of our endive and the students were thrilled!  Who knew 9 and 10 year-olds could have so much enthusiasm for a relatively bitter vegetable?  We love the idea of exposing such young taste buds to new flavors and experiences!
Sitting on my desk this morning, much to my delight, was a stack of "thank you" notes addressed to Mr. Collins from the students at D.H. White Elementary School.  Here are a few of my favorites…
"Thank you for the endive.  I loved my endive, it was delishish.  I brought home my endive and the next day I went to my kitchen it was gone!  My mom found out my brother did it. Thank you so much for the endive it's so good!"
"Thank you so much for letting us visit your factory, and for letting us bring endives to our school.  I didn't really care for them very much even though we had ranch dressing.  But I'm sure I'll like it when I'm older.  I also liked going into the freezer I hope I can visit your factory again soon!"
"Thank you for letting us to your endive factory.  I liked the freezer.  The reson I liked the freezer it was cold and snowe.  The reason I like cold and snowe is cuse I love the snow and it is cold.  I wish I lived in the snow."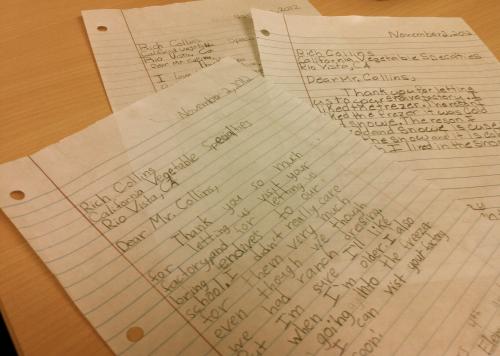 Last year Carolyn, the writer and recipe developer behind All Day I Dream About Food participated in our OnDiva Program. As a result, she created many delicious recipes using our Belgian endive.  We love her recipe for Turkey Taco Endive Boats.  If you want to test the taste buds of your own youngsters, try this kid-friendly dish!  
If you are interested in experiencing your own tour of our endive farm, please contact us at info@endive.com, you may even walk away with some of our delicious, California-grown endive!