OnDiva's Endive Creations
Submitted by
Molly Collins
on Thu, 02/21/2013 - 09:53
California Endive Farms is proud to announce a continued partnership with five fabulous food bloggers. Over the course of the next six months, the five bloggers will feature endive in three separate recipes. We love the idea of partnering with food bloggers that feature our product in new and exciting ways. Let us provide you a brief introduction to each of our OnDivas before you make your way to their own sites!
Rachael Hutchins is the mastermind behind La Fuji Mama, a blog that celebrates experimenting with new and exciting flavors and products. Rachael's experiences while living abroad in locations including Paris, Tokyo and Yokohama contribute to her worldly cuisine. She's also dedicated to the idea of exposing the entire family, children included, to new flavors, which is an idea we love—the earlier the endive consumption begins, the better!
Dara Michalski of Cookin' Canuck has recently shifted her approach to cooking in order to be more health conscious. As Dara says, "Healthy eating doesn't need to equal boring food!" We are excited to see what delicious interpretations Dara comes up with endive, a food rich in vitamins and low in calories!
All Day I Dream About Food is the blog Carolyn Ketchum created to showcase the possibilities of low-carb, gluten-free food. Carolyn incorporates inventive flavors into dishes that won't ever make you feel guilty! Any diet should welcome the presence of our nutritious product, so we look forward to Carolyn's creative incorporation of endive into her recipes!
Paula Jones created bellalimento, a blog that reflects her passion for Italian cooking and a farm to table approach. Not only does endive fit beautifully into her culinary style, but also has a unique path from the farm to the table. We love sharing our story and educating more people about endive and all of it's wonderful qualities.
Healthy Green Kitchen's name is a clear reflection of the values of its author, Winnie Abramsom. Winnie's approach to food incorporates home cooking, holistic nutrition and green living. She also promotes seasonal recipes, which is lucky for us because endive is always in season!
Here is one of the recipes from last year's OnDiva campaign from Healthy Green Kitchen's Winnie Abramson.
Endive, kale, and smoked salmon salad with avocado and pink grapefruit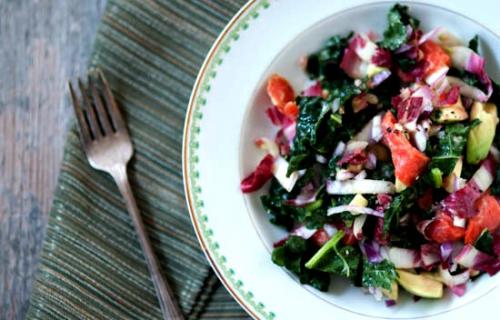 Ingredients:
1 head of California endive (I used red), ends trimmed off and chopped

1 big handful of Tuscan kale, chopped

1 pink grapefruit, segmented (chop the segments in half if they are large), plus 1-2 tablespoons of the juice that drains off when segmenting the grapefruit

1 perfectly ripe avocado, diced

3-4 ounces of naturally smoked wild smoked, chopped

1-2 tablespoons of finely chopped red onion

2 tablespoons avocado oil or olive oil, plus more to taste

Freshly ground black pepper
Directions:
1. In a medium bowl, combine chopped endive, kale, grapefruit segments, grapefruit juice, avocado, smoked salmon, and red onion.
2. Drizzle avocado or olive oil over the salad and mix well. Grind fresh pepper over the salad before serving. Serves 1-2.
To follow the OnDiva's and their endive creations, follow us on Facebook, Twitter and Pinterest.