History
Endive — The Accidental Vegetable
In 1830, Jan Lammers returned from the Belgian War of Independence to his farm near Brussels, where he had stored chicory roots in his cellar while he was away, intending to dry and roast them and use as a coffee substitute. But his chicory roots, resting for months in the dark, damp environment, had achieved a different result. They had sprouted small white leaves. Curious, he tried the leaves and found them to be tender, moist, and crunchy, with a pleasant, slightly bitter taste. Thus, a new vegetable was discovered — endive.
White Gold
It took a while before cultivation was refined enough to grow the vegetable commercially. Legend has it that endive took the world by storm when introduced in Paris in 1872, quickly becoming so popular that it was nicknamed "white gold."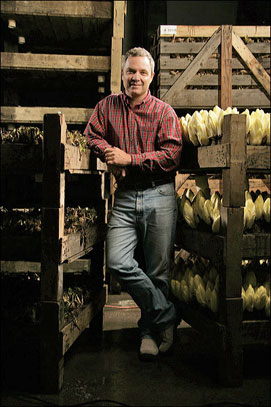 From Dark Cellar to California Closet
About a century later, a young American named Richard Collins, bent on becoming a specialty farmer, made his own discovery of endive while working in the kitchen of a French restaurant in Sacramento. The owner, preparing endives for a special party, told the wide-eyed youth that there was money to be made by anyone who could grow and market endive in the U.S. Fascinated by the prospect of growing this elegant vegetable, he bought some seeds and planted them in the family garden. For the plants to mature as they should in the dark, he placed them in a closet. The yield was meager, but he had caught the endive fever, eventually traveling to farms throughout Europe, where he immersed himself in the growing and maturing of this unique vegetable.
Only American Endive Producer
By 1983, Rich had begun commercial production of endive in Vacaville, CA, launching Rebel Farms. Many doubted that endive could be successfully grown here and, as Rich is quick to say, it took him a decade of trial and error to finally get a handle on it. Today, endive is grown on almost every continent, and worldwide production exceeds a half million tons annually. California Endive Farms remains the largest American producer and a leading innovator in improving the complex process of growing high quality endives.